BRONWYN THOMPSON of ROLLING STONE MAGAZINE
"Taking slabs of hip hop, old-school rock, funk, dub and pop, & melting it down to accessible and appealing bites, Butterfingers eat up all the Valley have to offer, and then spit it back with wry humour, brutal honesty and one hell of a good time."
SEAN BAXTER of RAVE MAGAZINE
"The first time I heard Butterfingers I turned it up so loud that my mum hit me with a vacuum cleaner accessory and told me I was corrupting my own youth. I like the sound of that!"


SMELL THE CHEESE of SPUTNIK MUSIC
"...a great slice of some of the more unique music coming out of Australia. This would be an excellent band to see live."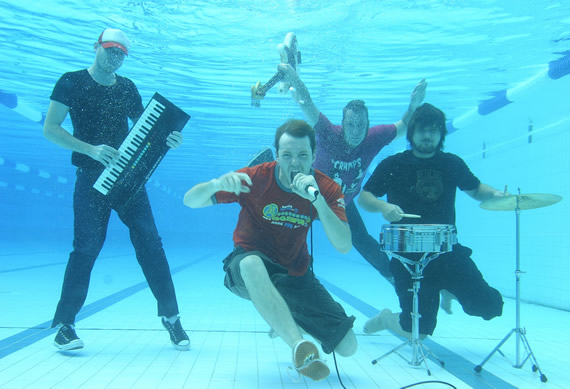 Since their inception in 2002 Butterfingers have proven time and time again to be one of Australia's most succesful independant acts and greatest live performers.
Their debut album Breakfast at Fatboys was released on 3 May 2004 on the group's own Valley Trash label and reached #61 on the ARIA album charts, #15 on the ARIA Australian Release charts and #2 on the AIR (Australian Independent Record Labels Association) Charts where it remained in the top twenty of the AIR charts for over a year following its release. The first two singles from the album "Everytime" and "I Love Work", reached No. 38 and No. 15 respectively in the Triple J Hottest 100. Triple J named it 'Album of the Week' upon its release and added the 3rd single, "Yo Mama" to high rotation at the station which charted at No. 17 in the Triple J Hottest 100 the following year. The album was also nominated for the Best Independent Release ARIA Award.
In June 2005 Butterfingers released the single, "Figjam (Fuck I'm Good, Just Ask Me)". The song peaked at No. 50 and in October 2005, "Figjam" was nominated for 'Best Urban Release' at the 2005 ARIA Music Awards. "Figjam" and the preceding single, "Jesus I Was Evil" (a Darcy Clay cover) charted at No. 11 and No. 69 respectively in the Triple J Hottest 100 of 2005.
The band released a new album, The Deeper You Dig... on 27 May 2006, which peaked at No. 14 on the album chart. A single from the album, "Get Up Outta the Dirt", peaked at No. 36, and charted at No. 83 in the Triple J Hottest 100 of 2006.
In June 2007 the band won an APRA award - 'Most Performed Urban Work' for "Get Up Outta the Dirt". The group then released "Nothin Much Happens" as a single in October 2007, which landed on Triple J's "hit list" of songs receiving medium to high rotation.
With the band enjoying an extended hiatus, lead vocalist Eddie Jacobson began performing with Brisbane-based punk band, SpitFireLiar. Jacobson has also gone onto release a solo single under the name Evil Eddie, entitled "Queensland" which charted at No. 86 in the 2010 Triple J Hottest 100.
For a limited time Butterfingers are giving away 3 of their greatest hits for free
as way of saying sorry for such an extended hiatus. Just enter your name and email address in the right hand side of this site and you will be immediately sent the download link to the free tracks.
So enter your name and email address now
, load up your iTunes and "turn it up so loud that your mum hits you with some vacuum cleaner accessories!".
---
Website by
Hairbrain Creative